5 Useful Tips to Hire the Best JavaScript Developer for Your Business
March 14, 2023
Finding the best JavaScript developer is essential to make the most of your web development project. Getting stuck with the wrong developer leads to incessant time, effort, and money loss. A JavaScript developer usually works on the front end or the side visible to the end users. They are responsible for creating graphical user interface designs accessible to the end users.
However, with the availability of Node.js and Express, JavaScript programmers can also create a functional backend for web applications. A full-stack JavaScript developer can make fully functional web apps for business enterprises. JavaScript is the most widely used programming language among developers worldwide. As per a survey conducted by Statista, over 65% of developers prefer using JavaScript programming language for coding.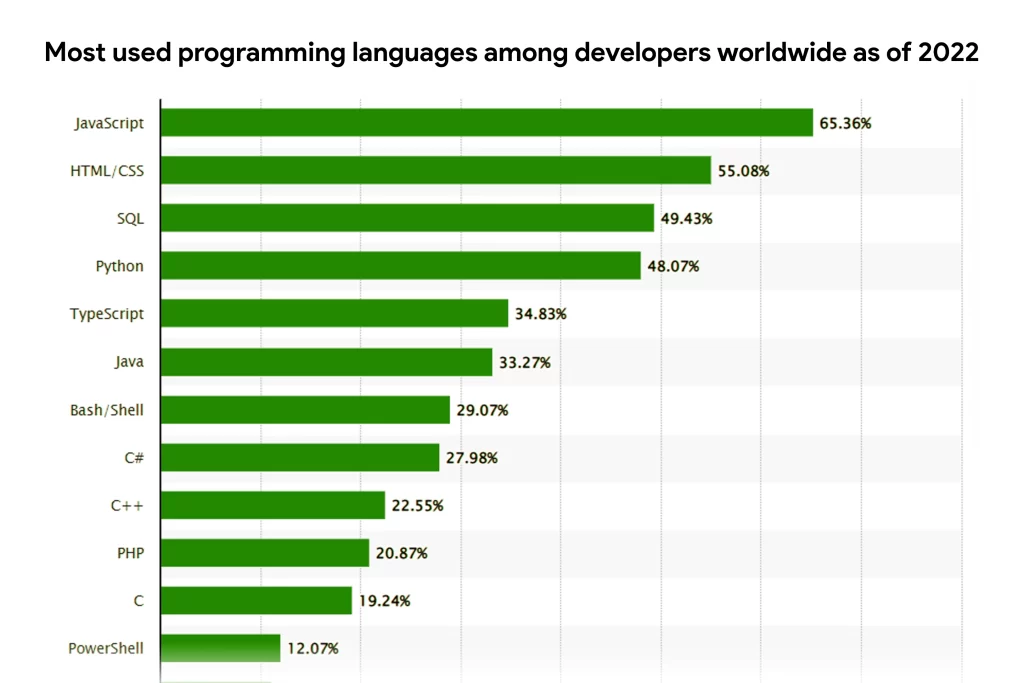 There's a massive demand for JavaScript developers and programmers. So, the cost of hiring JavaScript developers has increased significantly in the past few years. Post 2020, the price of JavaScript developers has shot up higher margins in the US, UK, Canada, and Australia. Finding the best JavaScript developer may seem tricky in such a scenario. This article provides five simple suggestions hire dedicated javascript developer for any business enterprise.
5 Handy Tips to Hire the Best JavaScript Developer
Tip 1: Analyze & Fix Your Projects Requirements
Before you start the quest for the best developer, you must set your business requirements, whether you are looking for short-term assistance or long-term project development goals. Having well-explained goals narrows down the search for the best developer effectively. Analyze the following aspects to fix your expectations of hiring a JavaScript programmer who matches your needs:
Do you want to build a website or a web app?

How long does the developer need to work on the project?

Does the developer need a specific library, framework, or technology expertise?

Can you manage remote JavaScript developers?

Does the project require hiring a dedicated javascript developer from a company, or will a freelance developer suffice? (will cover in detail in the upcoming points)
Tip 2: The Expertise to Look for in the JavaScript Developer
Hiring JavaScript coders with prior expertise in your relevant business industry is best. Also, the chosen developer should have delivered successful websites and apps. Whether you need a static or dynamic website also influences the developer's choice. A static website provides the same content to all visitors. A dynamic website produces personalized content for every visitor and new visit), which also impacts the choice of the developer. A static website is simple to build and maintain. In contrast, a dynamic website is more complex regarding development and maintenance.
Following are the three types of JavaScript developers you can hire for web development:
Hire JavaScript Developers for Client-Side Development
Client-side development is also called front-side development. A front-end JavaScript developer is skilled in HTML, CSS5, and JavaScript programming languages. The front-end JavaScript developers take care of how a website appears to the visitors and performs the essential functions. They need more detailed knowledge of databases and servers and how to use them for complex features and functionalities.
You should hire a JavaScript developer for the front end when you want the developer to design your website or web app. However, it also means you already have someone on your team to handle the web pages' backend. An experienced frontend developer takes care of innovative designs and can transform wireframe design into practical UIs
Hire JavaScript Developers for Server-Side Development
The server-side development of any website refers to creating code for the website's proper functioning. It is also called the backend development of the website. The backend JavaScript developer creates code that facilitates a database and an application to communicate with each other. They are well-versed in data structures, servers, algorithms, and at least one programming language, whether JavaScript, PHP, Python, and others. The backend JavaScript developer has an excellent working knowledge of Node.js, Express, and various other frameworks.
Hire JavaScript Developers for Full-Stack Development
A full-stack JavaScript developer has good exposure to both frontend and backend development. So, a business organization does not need to hire separate developers for frontend and backend development of the website. The hired developer is well versed-HML, CSS5, JavaScript, databases, servers, APIs, JavaScript frameworks, and more. Having both ends developed in a single programming language gives the project an isomorphic code. The isomorphic code is simpler to maintain. It lets developers easily switch between the website's front and back ends.
Tip 3: Decide Between a Development Company & Freelance Developers
| | |
| --- | --- |
| JavaScript Development Company | Freelance JavaScript Developer |
| High expertise in various libraries, frameworks, and technologies. | Expertise varies and depends upon the individual developer. |
| Ideal for short-term and long-term engagement | Fruitful for short-term engagement |
| Greater stability and trust | Potent risks |
| Seamless management with top project monitoring tools | Lack of project monitoring tools |
| Comparatively higher cost | Lower costs |
You have two popular options for hiring JavaScript developers, freelance developers and development companies. A freelance developer is cost-effective and provides fast onboarding as there are hardly any sign-ups you need to do. However, on the downside, they are not ideal for long-term engagements, and there are also zero guarantees of quality once the developer hands over the project.
In contrast, hiring a JavaScript developer from a reputed firm provides a guarantee of quality and commitment. Many firms also offer free redressal of issues post-project delivery, which removes performance issues from the project.
Tip 4: Look for Soft Skills & High Collaboration
Smooth collaboration is the key to the success of any web development project. Whether you hire a frontend, backend, or full stack developer, they must communicate with other team members for successful project development. Sometimes the JavaScript developer also communicates with clients of your client or with the target audience to create new and innovative features.
In such circumstances, soft skills are pivotal in establishing a good collaboration between the developer and the clients. Also, a futuristic development team comes with various project management tools, including Basecamp, Zoho, and Jira. These tools are simple to use and help organizations easily track JavaScript project progress with live updates.
Tip 5: Hire Developers with a Good Portfolio
Now, it's time to look for an incredible portfolio. You need to ensure the chosen developer can handle developing code and regular communication with the team. A simple interview tells a lot about the developer's soft skills. Ask project-based queries and a few informal questions to determine whether the developer is good with communication.
Further, you need to check the coding capabilities of the developer you are considering. So inspect the past projects delivered by the developer. The quality of past projects gives a clear idea of the quality of the solution the developer can provide. Also, look whether he/she is skilled in the aspects of development you need services in. For example, you cannot entrust the coding section with expertise only in front-end development.
Wrapping Up
The idea of having the best JavaScript developer on the team starts by finding the qualities you need in the developer. Once you know what you are looking for, finding the best developer is easier. The JS Panther Pvt. Ltd. DesignRush profile provides you with a team of dedicated JavaScript professionals who delivers top-notch services. We have been in business for over five years.
Once we receive the project details, we inspect the team for talented JavaScript developers with hands-on experience in relative industry verticals. So, you can hire JavaScript coders with greater confidence in delivered quality. We also offer the following:
JS Developer with over five years of experience

60 days of free-redressal of issues

World-class project management tools like Basecamp & Jira

100% project transparency

Connectivity over calls, chats, emails, etc.